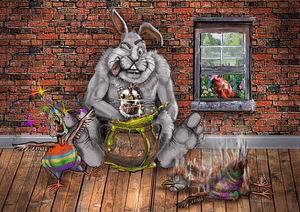 Inspiration
So… what if you had a demented Easter Bunny that really didn't get the process?  Did a version of this in black and white quite a few years back,  remembered the idea, wondered if I could replicate it in color.
Old version, used cross hatching on the chicken (stripes, checkerboard).
…. The wonders of new technology!
Process
Pretty much completely in Clip Paint for this one.  That and some kitbashing here and there.
Takeaways
I think I'm getting a little better with the product.  Am finding some annoyances with it.  Multiple "adjustment" layers sometimes have an effect if  they are separate;  Then when dropped, they wind up doing something completely different.
Conclusion
No actual animals were hurt in the making of this "piece'.